Since MindManager version X5 there has been a Sketch Tool which Tablet PC users (or graphics tablet users with Vista) can use to add sketches to their maps. I often use this to make representations of speakers flip charts and slides when there are graphs.
At last week's Ecademy London presentation on using body language and your voice to influence (or at least not give the game away) I used the tool to make a few cartoons.
Click the map to see the big picture of this presentation by Richard Newman and Christian Billet of UK Body Talk on Can You Walk the Talk?.
You won't be able to see that there is some degradation of the sketch in conversion from the Ink to being part of the image map jpg but there is. If a higher quality sketch is required employ someone like my friend Simon Ellinias (see below) and use a drawing package like ArtRage2 export to jpg and include in the map.
Its easy to use the sketch tool in MindManager. Just make a triangle gesture in ink mode and the sketching window appears. If you were focussed on a topic it will a sketch in the topic otherwise a floating image. Once your sketch is complete you can resize it by selecting the topic and right clicking to get the resize option.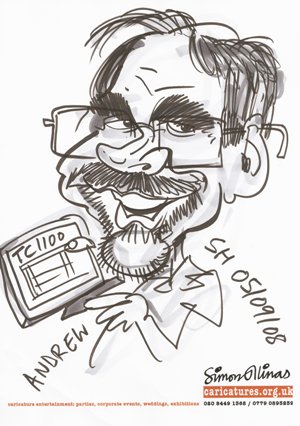 Please note Simon and I were talking about Tablet PCs when he drew this particularly second hand TC1100s. I was holding a TC 2710p at the time. Both are excellent mobile Tablet PCs.